While people are praying, I am sure you have heard people say something like this: "Satan I stand against you" or "I stand against the spirit of ___ (fill in the blank – Satan, Jezebel, Leviathan, or any other named spirit) ___" or perhaps you have done this yourself. However, what does this actually do? Does it accomplish anything?
Truth be told, it accomplishes absolutely nothing for the kingdom of God and can actually do harm. Just think about it: in the natural or the spiritual, picture yourself or that other person praying like this, standing against Satan or the named spirit which they say they stand against. Is that evil entity going to move? Absolutely not! In fact, this type of praying will actually only antagonize that evil spirit against you and even your family, your church and others. That spirit will feel obligated to retaliate and do its best to stop you, the person or group from accomplishing anything because you have not taken authority, not taken care of that spirit, not silenced it, and not sent it away or even stopped it. The evil spirit does not move when this is said and will take it out on you and loved ones.
One of my top goals is to teach the Body of Christ how to intercede safer and more effectively. Saying "I stand against you" does nothing to stop the evil, and it is not a question of semantics. Is that spirit taken care of? Is that spirit now limited? Is that spirit going to leave? Is the spirit bound? Not at all. How would it have been if David said to Goliath, "Goliath I stand against you." David and all Israel would have been annihilated by Goliath, Goliath's brothers, and the Philistines!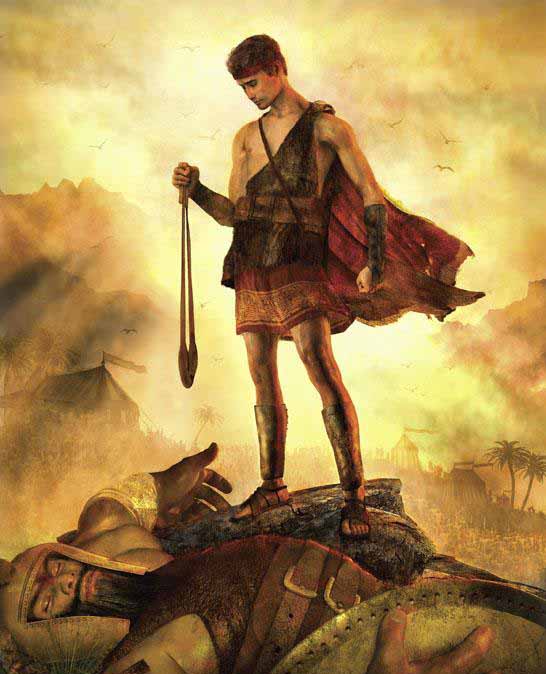 Saying "I stand against ____" is not taking authority which the Word of God instructs us to do (Luke 10:19). Evil spirits should be under our feet, then sent to the feet of Jesus so He can deal with them. We should be nowhere near these entities to stand against them anyway! And they are certainly not on equal footing with us. We have so much more power and authority through Jesus Christ, and they are only puff-of-smoke fallen angels. Send them where they belong. Take the authority Jesus died to give you and send them packing…fast.
Instead of saying such a nonsensical statement as above, it is pro-active and effective to take out that spirit altogether. If you are not in a group and do not feel led to bind that spirit by yourself, it is safe to say something like: "I STOP you, Satan, from doing evil in my family," for instance, or "Jezebel, I stop you from being active or doing any harm to my church in Jesus' mighty name!" See how much more effective and safer this is?
Jesus never "stood against" any evil spirit. He didn't stand against the man from Gadarenes, nor the man possessed of the devil in Luke 4. He took command over the demons, told them to be quiet and cast them out. The entire region experienced revival after he cast out principalities and lesser demons in the man from Gadarenes. We have the same power.
When you are in a group and led by the Lord to bind the evil spirit you are sensing, then bind and loose the spirit as the Bible tells us to do and never forget to add "In Jesus' name." However, always be sure that you hear Holy Spirit directly that it is time to bind the specific spirit before binding anything; and in the end always bind backlash. See https://strategicprayercommandmin.com/2018/09/11/binding-backlash-how-and-why/
God gave us the authority along with His power to take out these spirits, or at least stop them from doing harm, and there are no scriptures that tell us to stand against a spirit. Many praying people put themselves, their churches, and their families in harm's way by copying what others have prayed, not realizing what they are actually doing, and wonder why they get retaliation. This is an example of the pressing need to know the scriptures.
The following is the only scripture about "standing" that people might have tried to use; however, it means to stand strong in the midst of war, never to give up, and to actively war against evil spirits. Notice that this whole paragraph of scriptures is talking about pro-active warfare against evil spirits, with all our warfare armor on. It is never a passive warfare. We are not to just stand with our armor and do nothing. He tells us to use our sword, helmet, shield, breastplate, shoes, and belt for active offensive spiritual warfare. The paragraph is telling us how to keep standing in the fight against the devil, and to still stand in the end of the battles when we use God's armor in the right way.
Eph 6:10-17: "Finally, my brethren, be strong in the Lord, and in the power of his might.Put on the whole armour of God, that ye may be able to stand against the wiles of the devil. For we wrestle not against flesh and blood, but against principalities, against powers, against the rulers of the darkness of this world, against spiritual wickedness in high places.Wherefore take unto you the whole armour of God, that ye may be able to withstand in the evil day, and having done all, to stand.Stand therefore, having your loins girt about with truth, and having on the breastplate of righteousness;And your feet shod with the preparation of the gospel of peace;Above all, taking the shield of faith, wherewith ye shall be able to quench all the fiery darts of the wicked.And take the helmet of salvation, and the sword of the Spirit, which is the word of God:"
To make this clearer, The New Century Version reads the following for the same scriptures, and many translations are similar:
"Finally, be strong in the Lord and in his great power. Put on the full armor of God so that you can fight against the devil's evil tricks. Our fight is not against people on earth but against the rulers and authorities and the powers of this world's darkness, against the spiritual powers of evil in the heavenly world. That is why you need to put on God's full armor. Then on the day of evil you will be able to stand strong. And when you have finished the whole fight, you will still be standing. So stand strong, with the belt of truth tied around your waist and the protection of right living on your chest. On your feet wear the Good News of peace to help you stand strong. And also use the shield of faith with which you can stop all the burning arrows of the Evil One. Accept God's salvation as your helmet, and take the sword of the Spirit, which is the word of God."
War on and be safe, mighty warrior!